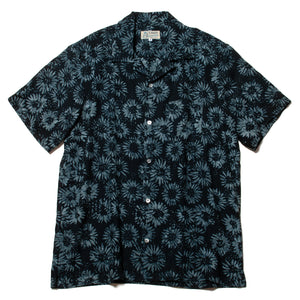 Rayon Batik Aloha Shirts "Smokey Flower"
LANI'S General Store
Regular price $148.00 Sale
LANI'S General Store
Rayon Batik Aloha Shirts

[About Item]
Open-collared Aloha shirt sewn with a single needle sewing machine.
The side and armholes are finished with a fold-over stitch that look beautiful and make them very durable. Side pleats. Shell Buttons.

"Hand dyed batik from Island Batik"
Island Batik produces fabrics in a dyeing factory centered on a small village in Bali.
Men and women in the community are involved in all production processes, not just factory management.
Men drew designs on cloth with wax and dyed them. After that, the washed fabric is laid on rice fields and exposed to sunlight to dry. Sunlight is an essential factor in ensuring vibrant colors and robustness.
Women also control the quality of the fabric, carefully fold the finished fabric, wrap it around a cardboard board, and pack it. Boards for wrapping fabrics are also made by families in the surrounding area and are made using 100% recyclable materials.

・Size : M, L, XL
・Color : Smokey Flower
・Fabric : 100% Rayon "Imported from Bali"
・Made in Hawaii U.S.A.

- Size -
M  chest : 48", sleeve : 9.5", length : 29"
L  chest : 49.5", sleeve : 10", length : 30"
XL  chest : 51", sleeve : 10.5", length : 31"