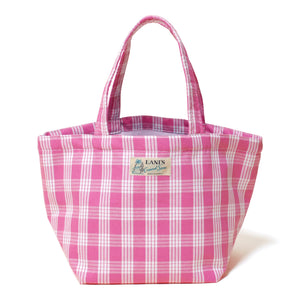 Palaka mini Tote Bag "Pink"
LANI'S General Store
Regular price $34.00 Sale
LANI'S General Store
Palaka mini Tote Bag
[About Item]
Our Palaka mini Tote Bag is the perfect everyday bag. Compact yet durable, it features an interlining cloth sandwiched between the face fabric and lining, making it strong enough to support your daily needs. A stylish and practical choice.

Palaka is a fabric with plaid and cross-striped pattern.
Since 1920s, palaka clothing has been produced for the plantation workers in Hawaii. Because of its strength and breathability of the fabric, it has been loved by many of the locals here in Hawaii, which became the staple fabric here, till this day. Wearing palaka shows that you respect & appreciate the Hawaiian workers and the Kama'aina style.

・Color : Pink, Blue, Purple, Sand, Green, Navy, Red, Yellow
・Size : 8" H x 7.5" W x 6.5" D
・Handle : 14"
・Material : 100% Cotton Palaka
・Made in Hawaii U.S.A.