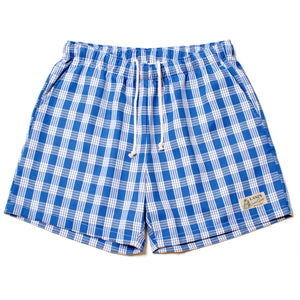 Short Length Palaka Shorts "Blue"
LANI'S General Store
Regular price $54.00 Sale
LANI'S General Store
Short Length Palaka Shorts
Palaka is a fabric with plaid and cross-striped pattern.
Since 1920s, palaka clothing has been produced for the plantation workers in Hawaii. Because of its strength and breathability of the fabric, it has been loved by many of the locals here in Hawaii, which became the staple fabric here, till this day. Wearing palaka shows that you respect & appreciate the Hawaiian workers and the Kama'aina style.

[About Item]
These classic and comfortable "Blue" Palaka Shorts are the perfect addition to any summer wardrobe. Made of 100% cotton in Hawaii, the shorts feature an easy wear fit, making them ideal for any occasion. Stay cool and comfy this summer with these stylish Hawaiian-made shorts.
・Color: Blue, Navy, Green, Pink, Red, Yellow,  Sand
・Elastic waist band with drawstring
・Side pockets
・100% Cotton
・Made in Hawaii U.S.A. 
- Size -
XS (28-29inch)
inseam : 4 1/2"

S (30-31inch)
inseam : 5"

M (32-33inch)
inseam : 5 1/2"

L (34-35inch)
inseam : 6